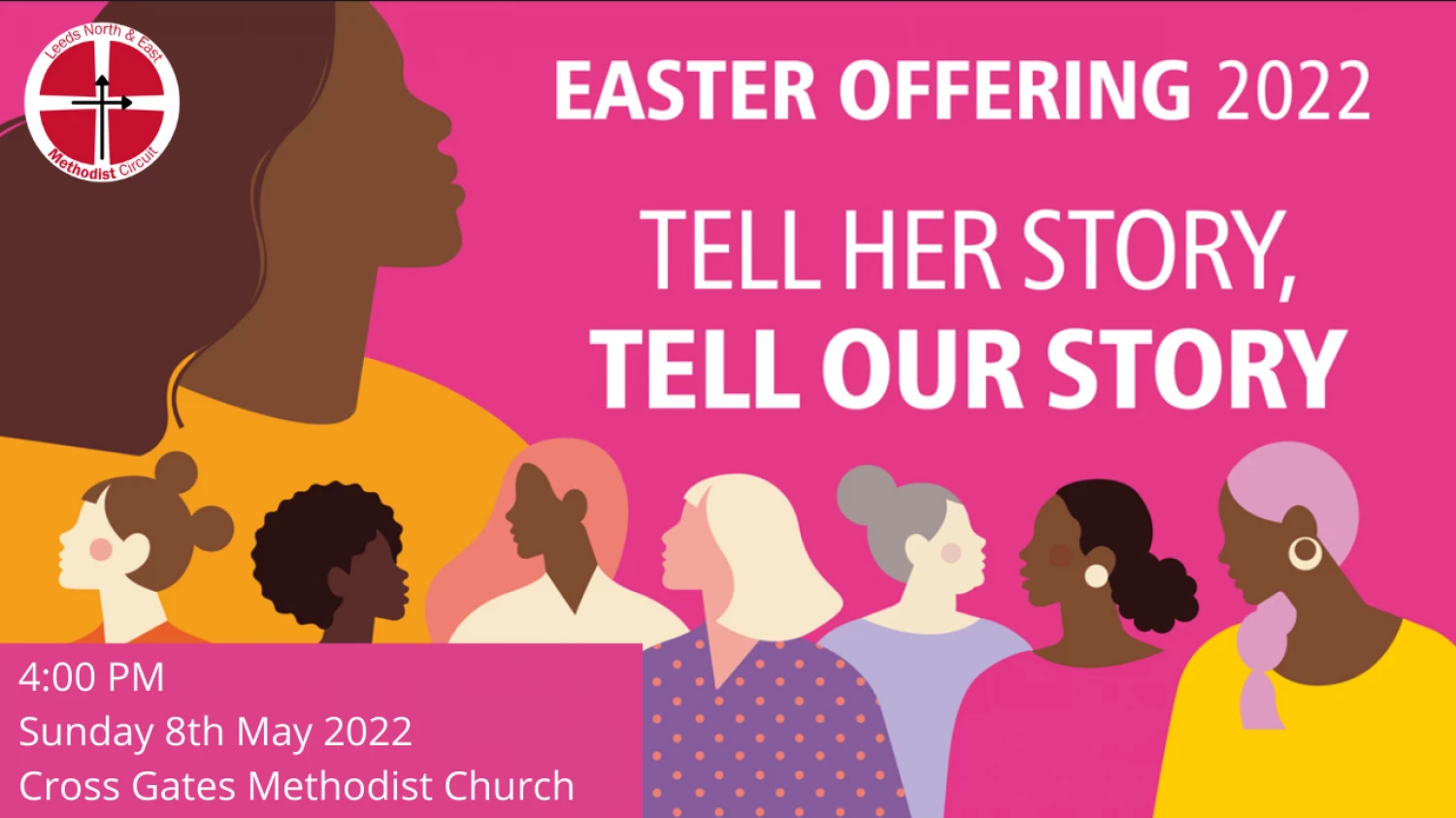 Come and join us either in person or live on YouTube for our circuit Easter Offering Service from Cross Gates Methodist Church at 4pm on Sunday 8th May.
This year's theme, 'Tell Her Story, Tell Our Story' features the stories of women which have often been forgotten or overlooked. They are stories of courage, compassion and calls for change. The theme is inspired by the tenth anniversary of Methodist Women in Britain and the work it has done to empower and enable women around the world.

The offerings collected during this act of worship go to the World Mission Fund of the Methodist Church in Britain. As we listen to and reflect on the stories of women from around the world and through time, we will consider how we can share our story, our sisters' stories and God's story with the world.
Each year, the Methodist Church holds an Easter Offering dedication service. This tradition dates back to 1883, when women in Manchester collected £32 for missionary work overseas from 'Christmas pennies' at family gatherings on Christmas Day. In March 1884, the London Districts distributed Easter envelopes and collecting bags asking for a penny a head, and collected around £100. In 1900, Women's Work raised £1,655 for the work of overseas missions.

Since then, each successive Methodist women's movement has encouraged donations in support of God's mission. Recently, Methodist Women in Britain (supported by the Global Relationships team) have produced an annual service of dedication, often used widely around the Connexion as a circuit service.

All the money raised through the Easter Offering goes to the World Mission Fund of the Methodist Church in Britain for work in our Partner Churches around the world.