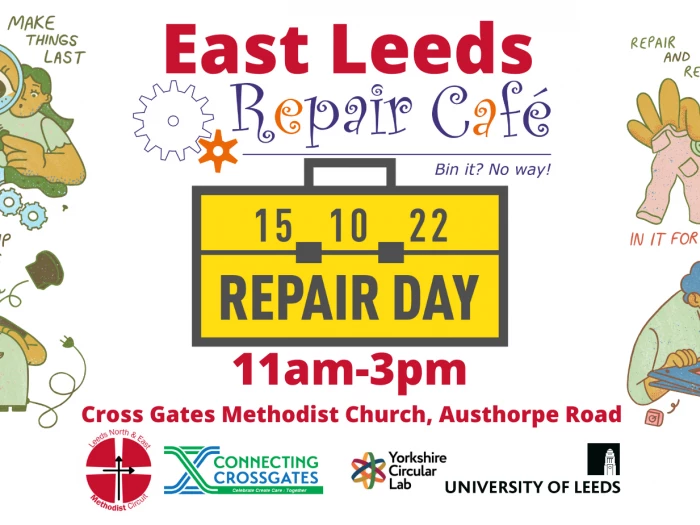 Saturday 15th October is International Repair Day, it is also the date of the next East Leeds Repair Cafe session at Cross Gates Methodist Church.
The aim of international repair day is to encourage people to think about trying to repair items rather than throwing them away. The theme for the year is Repair Everywhere" In many ways this harks back to a time when more or less every town, village or city had at least one repair shop. Sadly, these are mainly gone as many products become less economical to repair for profit, often meaning that repairs are as expensive as replacing with a new item.
The repair cafe in effect crowd sources the repair skills of members of the local community, allowing people to share their gifts and talents with others in a safe space.
We don't charge for repairs but do ask for a donation towards the running costs of the cafe. If you need specialist parts, we can often advise on where to get these.
As well as repairing items our fixers can often give advice on how to use and maintain items to help prevent future issues and there is alwaas a good cup of tea or coffee available as well as space to talk.
All of our volunteers are involved for different reasons and are generally happy to share these if asked. They come from a variety of backgrounds, and it is brilliant to see such a diverse team sharing their skills and passions with each other as well as with people bringing items for repair.
In general, the idea is that out volunteers will help you to repair your own items, learning new skills and gaining confidence in your own ability to repair. So come and join us bringing your items for repair and maybe seeing if you would like to be involved in future repair cafe events in East Leeds.
You can find a link to this event  HERE  and if you have an item for repair if you want to share a picture and description in the discussion this may help our team to prepare or give advice if you will need to bring parts along.